My passion is to guide women to re-establish their sense of purpose and passion, choosing a life aligned with their soul, transforming self doubts to self belief.

						My teachings come from the heart, enriched by lifes journey of unexpected turns and tribulations, dreams both filled and unfulfilled. The unfolding of my journey has been enriched beyond measure by the knowledge that yoga has gifted me. Lessons I aim to share which I believe guide us back home to ourselves, offering space for much deeper and richer self understanding and personal growth. I've learned these practices teach us how to heal ourselves, develop qualities of compassion and understanding of ourselves and those around us. When we show up for ourselves in this way, it ripples out teaching those around us how to be in relationship with us also.

						Each time I show up to my mat, the feeling the movement and breath reciprocity gifts me is a deep sense of connection, not only within my body but deep within the callings of my soul. Freedom breathes life back into my soul like a rush of faith, dreams once more in sight, everything again becomes manageable and achievable.

						To me, it's the physical expression of heart and soul in motion.

						When we arrive here, we are reminded we are worthy. We let go of a need to know the outcome, we remove our expectations as we understand they can become our obstacles, we allow the practice and the flow of life to take the lead and guide us. We step back into trust, and allow the magic to unfold.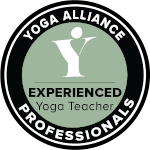 A soul's calling...


						Before yoga changed the course of my life, I had two previous past lives, one as a professional dancer travelling the world, another as a senior manager having climbed the corporate world ladder. This led me to searching for a practice to calm my mind from an intense and demanding stressful career. I first immersed myself in mindfulness readings and practices, then discovered what I really needed - yoga. Collapsing on my mat in a hot sweaty mess in my first savasana, I was instantly hooked at the euphoric wave my body felt. I was hooked. I had found my passion.

						My journey has filled me with the highest of highs and the lowest of lows, for which I am truly grateful for the depths and richness of it all.  It hasn't been an easy journey, one which required sacrifice, choosing to leap into the unknown, giving up security and safety to find answers to questions, for a life filled with passion and purpose. The next 4 years to follow would find me qualifying as a teacher, falling into the depths of despair with severe anxiety and depression, quitting my career and UK life and setting off on a soul searching journey to Nepal, India, Sri Lanka, Bali and the Philippines. A trip that would change me forever. Find out more about my own personal 'Hero's journey' here (enter blog link)

						During this time my curiosities led me to continue and deepen my studies more broadly. I took my Yin teacher training with Sarah Lo (Sarah powers lineage), began a continuing journey of the Chakra system, (Caroline Myss) dipped my toe in Myofascial release training (Yoga Barn Bali), discovered neuroscience through Dr Joe Dispenza, got curious about natural therapies through various Doctors and dived into Lunar cycles - Moon and womb, qualified in children's yoga and pregnancy yoga, and also took my Reiki. My love affair with self development learning began 10 years prior, so I forever have a book on the go. More recently I have deepened my knowledge on energy practices - a huge passion of mine really stemming from Yin, with the gorgeous Janet Stone and the incredible Mark Haviland, which was totally rad. A new muse of 2020 however has been diving into astrology which I am totally fascinated by and excited to where it will lead.

						My teaching passion is really to help women wanting to immerse in a practice which goes beyond the asana (physical) who is looking for that of emotional and psychological transformation and evolution given this has also been my journey. I feel called to support those yearning to reconnect to themselves, offering guidance to rediscover their own truth and spiritual growth. Learning to love their bodies and feel good in a practice that offers mindful yoga, energy work, dynamic feminine flow honouring the natural cyclical rhythms with strength building, mobility and flexibility for body and mind. I understand life can throw us challenges, my aim is to offer soulful encouraging teachings and nurturing practices to combat times of challenge, stress and anxiety.  I truly believe we are our own greatest teacher, but sometimes to realise our possibilities and potential, we need a nudge.
					
practice with me